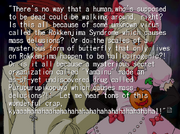 For all of you here I am live streaming arc 4 of umineko starting right now 9:10pm est. I will be using the patch you all have made and if you want to drop by/chat then feel free to. This is open to anyone and just a way to show my think for the hard-work you all are doing for this game. Just follow the link below and sit back/enjoy the show.
Cecil The Dark Knight
Ad blocker interference detected!
Wikia is a free-to-use site that makes money from advertising. We have a modified experience for viewers using ad blockers

Wikia is not accessible if you've made further modifications. Remove the custom ad blocker rule(s) and the page will load as expected.